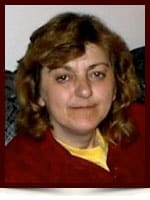 Gabriele McEleney (Traxel)
With heavy hearts we are sad to announce that Gabriele McEleney (Traxel) passed away suddenly in Edmonton, Alberta on July 29th, 2015 at the age of 60.
Left to cherish her memory are her children, Melissa (Liam) and Brian; grandchildren, Anthony, Julianna, Aidan, Rayanne, William; siblings, Aidi (Mike), Sigi (Bev), Rudy (Sharryn), Susi (Ken), Lori (Adam), as well as many family members and friends. She is preceded in death by parents Peter and Katharina.
Gabe was warm and caring, she loved spending time with family and friends, enjoyed travel, gardening and art. She lived life to the fullest and will be greatly missed.
Time for Remembrance
Monday August 10th, 2015 at 10AM
Trinity Funeral Home Chapel
10530 116 St, Edmonton, AB, T5H 3L7
Memorial Donations in Lieu of Flowers
Heart and Stroke Foundation of Alberta
10985 124 St NW, Edmonton, AB T5M 0H9
Contact Information:  [wpseo_address oneline="1" show_state="0" show_country="0" show_phone="0" show_phone_2="0" show_fax="0" show_email="0"]