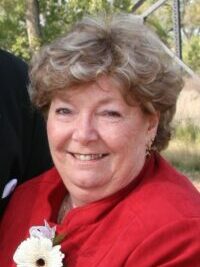 Gail Elene Johanson
December 4, 1947
-
May 14, 2021
It is with deep sadness that we announce the passing of Gail Elene Johanson on May 14,2021. Gail had a decades long battle with MS and in recent years cancer began to take its toll. She dealt with her conditions without complaint and in the last couple of years in particular, with courage and an amazingly positive and often cheerful manner.
Gail was born in Edmonton on December 4, 1947, the eldest daughter of Olaf and Lorna Johanson. Gail attended Grant MacEwan in Library Science and worked as a legal secretary for several years.
While MS slowly deprived Gail of her freedom of movement, she let her mind explore a multitude of subjects found in books, art and the vast world of the Internet. She worked diligently to document our family's history by establishing connections with various organizations and people overseas, obtaining copies of the birth and death certificates of predecessors and then bringing myriad stories and letters together to enable us to understand our family tree. This was no small task and it was important to her to separate myth from fact but she always made a little space for a little family lore in her notes. Copies were always available for family members.
Gail always put the best interests of others above her own. This was evident by her assistance to a school in the Philippines where her donations were able to provide school supplies for children that were unable to afford them.
A daughter, a sister, a wife, a mother, and a grandmother, Gail will not be forgotten. She is survived by her two sons, Jamie Fraser, his wife Corrine, and son Dayton; son Michael Fraser, his wife Jenn and daughters Emma and Claire; sisters Wendy Kautz, Cheryl Kress, brother Lorne Johanson and our mother Lorna.
The family would like to express their appreciation for the compassionate care received at the Misericordia Community Hospital at not only an extremely difficult time for family but also due to the worldwide pandemic.
There will be no memorial service at this time but at some point when Covid restrictions are lifted, the family would like to host a gathering to honour and celebrate her life. In keeping with Gail's spirit to help children, please consider a donation to the Little Warriors organization (https://littlewarriors.ca/you-can-help/donate/).