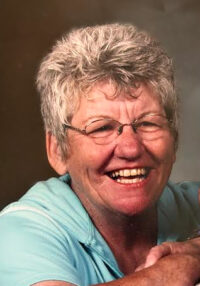 Gail Laurel Ann Vaillant
December 28, 1947
-
May 10, 2022
Gail Laurel Ann Vaillant was a loving wife, devoted mother, proud grandmother, sister, auntie and friend. She left this world on May 10th, 2022, peacefully, with family by her side.
Born in Dryden ON, and raised in Northern Ontario, Gail was always proud of her roots and would often share fond memories of her time in Wabigoon. She later relocated to Thunder Bay where she became a hairstylist making lifelong friendships along the way.
After Meeting her husband Russell at age 27, the two went on to raise their family on Townline Rd. During this time Gail started her own home salon and later worked alongside Russ in their business Lakehead Gardencrete Center.
Gail enjoyed volunteering and contributing to her community. She could often be found at St. Augustine's Church, where she was part of the ladies auxiliary or down at the Murillo Fair grounds where she served many years as a board member. When Her and Russ relocated to Fort McMurray AB she continued her community service on the Golden Years Society board. She had a passion for golf and was involved with the Ladies Leagues both in Thunder Bay and Fort McMurray. She loved to garden, and her love of flowers showed in her dedicated work as a florist later in her life.
Her pride and joy were each of her grandchildren and she wouldn't hesitate to tell a story or accomplishment of each of them. Gail was most happy when surrounded by her family and friends. Her laugh could be heard across a room and she was one of the first to lend a hand when needed.
Survived by her husband Russell, children Lisa, Jody, Robin and Nicole (Richard Spring), grandchildren Jacob, Adam, Jasper, Marcus, Mitchell, Dayton, Laurel and her great granddaughter Corinna, sister Sheila, and her many nieces and nephews, and cousins.
Predeceased by her parents Milton and Signe Shushack, brother Mark and brother in law Dennis.
A celebration of life will be held in Thunder Bay, ON for Gail on July 17th at the Murillo Hall (4569 Oliver Rd) from 1pm - 4pm.
In lieu of flowers the family asks that donations be made to the Alberta Cancer Foundation or Kids with Cancer Society in Gail's name.