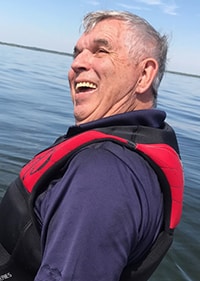 Gary Roberts Miller
On Saturday, September 29, 2018, Gary Roberts Miller passed away peacefully after a long battle with cancer.
Gary will be sadly missed by Lorraine, his wife of 47 years, his sons Robert (Renee), Roger and Randy (Heather), grandchildren Alyssa, Dylan, Cole, Ali and Lyvia, brothers Wayne (Delores), Stanley (Lynn) and Allan (Bonnie), sisters Carol (Fred), Laura, Marlene and Debbie as well as numerous nieces, nephews, godchildren and friends.
Gary is predeceased by his mother June and sisters Mary Lou, Delores and Marlainne.
Memorial Mass
Friday, October 5, 2018, 10:00AM
St. John Bosco Catholic Parish
13503 40 Street NW, Edmonton.
In lieu of flowers, donations may be made to the Stollery Children's Hospital, 8440 114 Street NW, Edmonton, in Gary's name.
The family wishes to say thank you to the staff at Foyer Lacombe for their special care and attention to Gary during his stay.