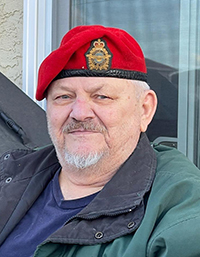 Gary Wayne Anderson
May 25, 1947
-
June 28, 2021
Gary Wayne Anderson, born May 25, 1947 and also affectionately know as "Andy", passed from this earthly life to his heavenly home on June 28, 2021.  Gary (Andy) will be remembered for his great sense of humour, his demonstrative affection (hugs) and his generosity to those in need and to his family.  His adventurous spirit led him to dozens of countries over the course of his life.  He loved to travel, experience different cultures and their foods.
He married his wife, Connie, 48 years ago and raised 2 beautiful children with her, a son and a daughter.  They have been blessed with 7 grandchildren.  Gary's (Andy) first career was in the Canadian Armed Forces where he served his country for 12 years as a paratrooper in Princess Patricia's Canadian Light Infantry.  The next 14 years he served as a SAR tech (medic).  "That others may live" was the Search and Rescue motto.  It was a perilous and often traumatic career.  His second career was as a long-distance trucker for 20 years.  He retired at the age of 68.  Andy died at home, under the tender care and supervision of his daughter and wife.  He had many family and friends visit him in his last days, which was a delight for him.  Always a people person, he wanted his loved ones around until he breathed his last breath.
We grieve his loss but remain confident that he has entered the presence of God and is enjoying eternal life without pain and with great joy!  Gary's (Andy) funeral will be held on Saturday, July 10 at 11:30 am at Steele Heights Baptist Church.  5812 149th Ave, Edmonton, AB.  A light luncheon will follow.  For those unable to attend personally, please go to www.shbc.ca and look for the link to view the funeral on live streaming.