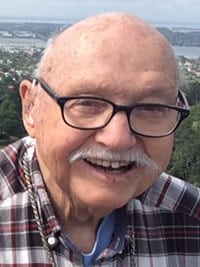 George Eugene Ball
September 25, 1926 – January 12, 2019
George Ball passed away peacefully at the University of Alberta Hospital at the age of 92.
He was predeceased by his wife Kay in 2014 after 65 years together and is survived by his wife Carol and her children Laurel Paetz Smith (Peter), Teresa Koslo (Chris), Kathy MacIsaac (Ian), Martin Paetz (Laurna), Melanie Passamare and Leslie Paetz (Bruce James) plus numerous grandchildren and great-grandchildren; his sons Eric (Beverley) and Stephen; grandchildren Stephanie Heming (Arthur) and Simon; and his great-grandchildren: Clara, Miles and Brandt. The extended family also includes many nieces and nephews as well as their children and grandchildren.
George was an entomologist with a particular passion for ground beetles.
He was a professor at the University of Alberta for 38 years, including 10 years as Chairman of the Department of Entomology. He was a graduate advisor to many students over the years, leaving a legacy of highly skilled biologists as well as a large body of research. After retiring in 1992, he continued his work as a world renowned taxonomist and was Emeritus Curator of the E.H. Strickland Entomological Museum at the time of his passing. He served in the U.S. Marine Corps during World War II, receiving the Purple Heart among other medals. A raconteur at heart, he enjoyed sharing tales of his experiences around the world, with each rendition better than the last. He took many cruises with family members in his later years, preferring the peaceful days at sea.
In accordance with George's wishes, cremation has taken place. There will be a small service for residents of Canterbury Manor on January 19, and a gathering of friends and family will be arranged in March or April to celebrate his life.
In lieu of flowers, a donation to a charity of your choice in his name would be appreciated. Favourites of his at the University of Alberta are: Kay Ball Memorial Graduate Student Research Travel Award and Martin J Paetz Memorial Graduate Award in Fisheries Management.