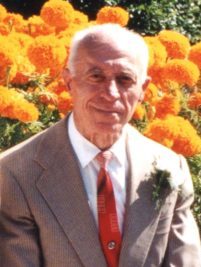 George Limneos
On Thursday October 22, 2020, Mr. George Limneos of Edmonton passed away peacefully in his sleep at the Edmonton General Nursing Home at the age of 97 years. 
George is survived by his two children, Paul (Shirley); and Michael along with his 2 grandsons, Daniel, and Alex, cousins and many nieces and nephews. George was predeceased by his loving wife Evangeline, his eldest son Tom, and his brother Kiriakos. 
George was born in Athens on October 30, 1922. It was a dark time in Greek history as Greece was in a terrible strife after several wars with the adjoining Balkan countries. With little in the way of law, order, food, or healthcare, George lost both of his parents at the age of three years old. His father died first, and then his mother saw her demise three months later. George was raised by his Grandmother Maria and was accompanied by his younger brother Kiriakos. When George turned six years old, his grandmother applied to admit him into a new orphanage that was being built in Patra. He was number nine on the list of applicants. The orphanage provided shelter, spiritual and agricultural education to underprivileged orphaned children. This traumatic change in life was accompanied by many happy and thrilling stories that George loved to tell about his life in the orphanage. 
The stories were numerous, but they took on a new dimension when George graduated from the orphanage at the age of 12. He moved back to Athens to live with his Grandmother, younger brother, and extended family members. They collectively relied on their survival instincts and worked together just to stay alive. The Kingdom of Greece was newly formed, but the opposing political parties split the country after its independence from the Ottoman Empire. The economic times were poor and dark as Greece was drawn into new battles with Fascist Italy and Nazi Germany. 
Over the next 19 years, George saved his money and worked at a number of jobs. He established a manufacturing line of custom lathed cigarette-lighter holders that were sold at a corner kiosk. He later worked in a commercial refrigeration factory where he apprenticed as a plumber, and sheet metal worker. George saved up enough money to bid on a British Army surplus Norton motorcycle, that he rebuilt himself using lathed and handmade tools. He used the vehicle to courier items to businesses within Athens and the surrounding area. At the age of 28 George was drafted into the Greek Army and reached the rank of sergeant. When George was 30, he applied for a discharge in order to leave Greece and travel to Canada. He was denied as Greece required his skills as a military truck driver. Fortunately, he reached an agreement with his commanding officer to remain at his post for an additional six months in order to train other army personal to do his job. In return, the commanding officer would approve his military discharge. In the meantime, George saved up enough money to buy a one way ticket on the passenger liner called the Nea Hellas, destined for Halifax.
In the fall of 1953, George said goodbye to his relatives in Greece and left to begin another chapter in his life. With the help of Greek matchmakers in Edmonton, George was introduced to Evangeline, who eventually became his wife. The family expanded when Tom was born, and four years later Paul was added, followed by Michael six years later. 
During this time, George was involved in the Greek community, donating time and furnishings for the original AHEPA Hall in Edmonton. He was also well appreciated for his willingness to fix, repair and advise friends on plumbing and construction issues. His pragmatic approach was in high demand in a community that helped each other, out of a sense of service, not money. 
George spent the majority of his working life working at the New Edmonton Hotel. He ended his hotel manager position when the hotel was expropriated and then demolished to make way for the new Canada Place building. On June 24, 1997, the Limneos family faced a devastating tragedy when Evangeline passed away at the age of 68 years. George was faced with living though the biggest loss in his life and struggled to rediscover a life without his wife by his side. He succeeded by remaining very active maintaining his home and inventing new ways to cope with life. He enjoyed his degree of control and independents until age-related limitations affected his ability to function. 
At the age of 89, his eyesight and hearing problems prevented him from renewing his driver's license. But, he would find other ways of maintaining his independence and living according to his new limited abilities. With the help of his family, he continued to attend church every Sunday and looked forward to socializing with his old friends. 
On May 30, 2014, George began a new chapter in his life after leaving a prayer candle lit in his bedroom that resulted in a devastating fire that left ashes of his home and lifestyle. He was forced to settle into a new lifestyle that included assisted living for the next four years. Unfortunately, his physical impairments, including near blindness, near deafness, balance issues, and severe arthritis contributed to a broken hip and a fractured arm. On May 16, 2018 George was transferred to the Edmonton General Hospital where he was well looked after by his family, doctors, nurses and other care givers. 
Despite George's difficulties in life, he was blessed with a long life, 8 days shy of his 98th birthday. He realized and repeated that his body would not last forever, but he strongly believed in the Nicene Creed stating that Christians can expect the "resurrection of the dead", as Christ was raised and "ascended into heaven". Someday all those who believe in Him shall again unite without pain or suffering.
A private funeral will take place with a public outdoor burial service to follow at Westlawn Cemetery, Greek section "C", on November 3, 2020 at approximately 12:00 noon. Rev. Father Andrew Allain officiating. Covid 19 general hygienic and social distancing measures to be observed.