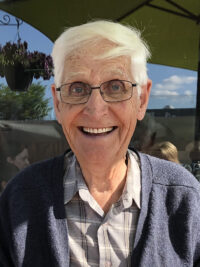 George William Greenslate Astley
August 5, 1931
-
May 7, 2021
It is with heavy hearts we announce the passing of our dear father/brother/grandfather, (Bill) George William Astley, born August 05, 1931. Bill passed away peacefully in his sleep, May 7th 2021, after a year long battle with cancer.
Bill can now be reunited with the love of his life, his wife of 59 years, (Louise) Stella Astley, who he has missed dearly. Bill is lovingly remembered by his sister Alice Muise and his children Paul, Kenneth (Linda), James (Lily), Karly (John), Heather (Doug) and will also be greatly missed by his grandchildren Kaela, Kelson, Adrian, Tess, Sarah, Kurt, Eric, Ryan, Jacqueline, Rachelle, Julie, Katie, Gillian, and Liam.
Bill was born August 5, 1931 in Dauphin, Manitoba to parents Noline and Ellis George Astley. He worked his entire career for CN Rail, retiring in 1988. Post retirement he consulted for CEDA in Tanzania and Pakistan for 3 more years.
Bill enjoyed many hours curling at Saville curling rink, golfing in the summer with his friends, and especially his morning walks to have a cup of coffee at McDonald's with his coffee group. Due to Covid, Bill missed seeing his family and solving the world's problems with his friends over coffee.
Bill also enjoyed traveling to see his grandchildren get married. Whether it was traveling down south to the Texas heat or flying all the way across the world at 88 years old to Belgium, we will all forever share many treasured memories, photos, and laughter over our time spent with Grandpa/Dad.
A special thank you to the staff and doctors at the Cross Cancer Institute and the Edmonton General Hospice, to Dr. Chandrasenan and Dr. Makhdoom for their exceptional care, compassion, and kindness they showed our father during his treatment and in his final days.
Due to Covid 19 restrictions we will not be having a funeral and instead will be having a private memorial at a later date.
Memories and condolences can be shared online at Trinity Funeral Services at trinityfuneralhome.ca.