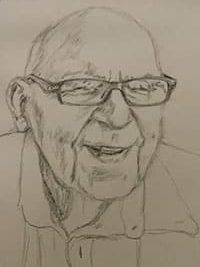 George Windsor Ford
Loving and loved George Windsor Ford, 92, was born June 3, 1928 in Humbolt SK to Dora and William Ford, walked into the Spirit world Tuesday February 2, 2021.
He is survived by his beautiful, love of his life spouse, Lois Cameron King-Ford; sister, Florence (Calgary); children: Wendy King, Lorna (Frank Lane) Ford, Alexis Ford-Ellis, Kevin (Cindy) King, Mitchell Ford, Patrick Ford, and Yvonne Louie; many grandchildren (great grandchildren): Terrance (Brodie & Logan), Morgan, Tyler, Ember & Collin (Colleisia, Faustina, Nora), Meika, Caelum, Autum, Shantelle, Brandon, Melissa & Kevin, Alison, Tannika, Angie (Mackenize & Kira), Pamela (Michael, Arianna, John) and Danielle; as well as many nieces, nephews and extended family. George is predeceased by his first wife: Patsy (Louie) Ford; sons: Dana King, George Ford, John King and Robin King; and grandsons David Lennie and Roger Maxwell.
Born into poverty George grew up learning the value of looking out for others and how to feed many with little. As a young man out of high school George worked in many trades before joining Poole Engineering (now PCL) working in Accounting then in Labrador before retiring in 1990. When he first settled his young family in Edmonton in 1966, he was an active volunteer with the King Edward Park Community for many years.
George knew the hardships of being poor as he was the youngest of 10 siblings; he was hospitalized for a year with Rheumatic fever, and he lived with alcohol addiction. Since living in recovery for 42 years George never lost sight of making amends with his past, and helping those walking a journey of pain and struggle. Part of his recovery was learning to swim and going out dancing. Mostly he loved to take his kids to watch the Edmonton Oil Kings (now Oilers) hockey games and the Edmonton Eskimos football games.
For many years he would enjoy being in the pool with his grandchildren. He and Lois could be found dancing the night away 3 to 4 times a week at the Legion. Even in care, Lois would dance with George in his wheelchair at various social events. His children were so happy when he met Lois as she gladly joined him at those Oilers home games. Through meeting Lois, he also found his salvation in God as his saviour. George never forgot where he came from, or those who helped him along his journey.
George found peace in being actively involved in community, with Lois, serving in their beloved Robertson-Wesley United Church in Edmonton. He helped with the monthly church dinners for the community, soup kitchen at the Bissell Center, and he helped start a lunch bag program for many living on the streets of Edmonton. Wherever George and Lois would go, they both carried coins so that they could give to anyone asking for spare change. Faithfully George would volunteer annually with Boyle Street's Christmas dinner (33 years); and with the Edmonton Food Bank at Heritage Days (10 years). George was recognized through the City of Edmonton in 2005 for his community service at the 54th Annual Salute to Excellence Awards; and in 2015, for 40 Years of feeding the homeless in Edmonton, he received the Governor General of Canada Caring Citizenship Award.
George was cared for by the beautiful healthcare providers on Unit 12Y at the Edmonton General since October 2017. The family is so grateful for his amazing love and kindness he shared with others; being loved by many and having touched the lives of so many.  Life can be a struggle yet there comes a time along our journey that we can all make a decision to change our ways from anger to love, self-loathing to compassion, and pity to kindness, which George did and role modelled for his family. George walked a long road with many experiences, and above all he showed that one's life can make a huge difference on so many. He would want us all to find a way to help one another, let go of all that does not serve us and be kind to each other.
George wishes are that people donate their time and money to such places as Robertson-Wesley United Church, Edmonton Boyle Street, The Bissell Center, Edmonton Food Bank or any community you wish to support in lieu of flowers.
An intimate family in-person & Zoom service will be held at Robertson-Wesley United Church for immediate family only; followed by a Celebration of Life at Robertson-Wesley United Church in the spring. Dad / Grandpa / George we will miss seeing you and talking to you. Now we carry you in our hearts with all the love you shared with us.