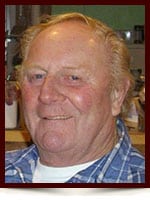 Gerald Hoines
April 9, 1941 - October 4, 2013
Gerald is survived by his wife Yvonne; his children: Susan (Gord) Cook, Clinton (Colleen) Hoines, Curtis Hoines, Chris (Cheryl) Boe, Lorne Boe, Greg Boe, Lindsay Boe and Jennifer (Craig) MacPherson; nineteen grandchildren and nine great-grandchildren; siblings Darlene (Don) McRobb, Carol (Bob) Donald and Murray (Maureen) Hoines as well as numerous nieces, nephews, other relatives and close friends.
Gerald was predeceased by his parents Harold and Delta Hoines; infant daughter, Troy Mae and his son, Dean Gerald.
Celebration of Life
Saturday October 26, 2013 at 3:ooPM
Fallis Community Hall
(RR 52 and Hi-way 16, Fallis, AB).
Hot Rodders please bring your cars.
In lieu of flowers, donations may be made to the Cross Cancer Institute 11560 University Ave NW, Edmonton, AB T6G 1Z2