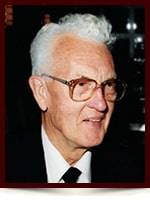 Gerald (Jerry) Henry Heath
Jerry was born June 5, 1917 in Edmonton. He died June 2, 2016, with his family by his side, just three days short of his 99th birthday. He was totally "with it" to the last hour of his life, telling stories he thought should remain in the minds of the family after he was gone. He died three months to the day after Lorna, his wife of 67 years.
He leaves behind, three children Sandra, Jim (Barb) and Bob, as well as two grandchildren, Lisa (Rob) and Michael and two great grandchildren, Fraser and Finley.
He was pre-deceased by his brother Joe and his wife Doreen. He leaves behind four sisters-in-law Jean, Betty, Elaine and Mary. Also left are two nephews one in Mexico, one in Quesnell, a niece in Mexico and their families as well as his cousins and many nieces and nephews of Lorna. He loved to stay in touch with relatives and friends and enjoyed phone calls with them all of his life.
Jerry was the eldest of two boys born to Bill and Mary (Polly) Heath. He was born in his grandparent's house on 81 Ave and grew up not far from there at 1115-81 avenue. That house is still standing. He went to Strathcona school, normal school as well as Alberta College, before graduating from the UofA in Agriculture in 1943. Until his death he was the oldest alumnus from the Faculty of Agriculture. He loved Homecoming week-ends and attended regularly the President's Breakfast and Faculty specific events.
He spent the majority of his career, at least the years he seemed to enjoy the most, with the Alberta Government in the Rural Electricity, Co-operative Activities and Credit Union Branch. He travelled the province helping farmers get loans to extend power from the main line to their yards and attending meetings to set up and manage co-ops.
He was active in the community, with St Pauls United Church, playing a major role in his life. He was the Sunday School Superintendent, attended church regularly, was active in church activities and managed the church apartment buildings for many years. He was also active for a number of years in Neighbourhood Watch and interested in all related community developments.
He loved to garden and grow and tend his raspberries and fruit trees. He enjoyed opera and loved to travel, especially on cruises.
Jerry lived with determination and stamina and will be missed for that by those who knew him.
Special thanks to Dr. Allen Ausford for his support and compassion over many decades; to Atsuko who helped in many ways by listening and working with him in the garden; Drs. Al-Kayssi and De Caigny and the Sturgeon Community Hospital.
A celebration of life will be held on July 11, at St Paul's United Church 11526 - 76 Ave, at 2 PM.
In lieu of cards and flowers, memorial donations may be made to the Co-operative Chair in Agricultural Marketing and Business Fund at the University of Alberta. Visit uab.ca/honour or send donation (payable to UofA) to: Office of Memorial and Tribute Giving (UofA), 3-501 10230 Jasper Avenue, Edmonton, AB T5J 4P6, noting that your donation is in memory of Gerald Heath to support the Co-operative Chair in Agricultural Marketing and Business Fund, or to St Paul's United Church.