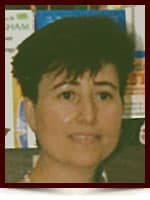 Gerda Anneliese Ratsch
1949-2014
It is with a heavy heart that I announce the passing of my wife and best friend Gerda. After a long battle with cancer she passed away at home on February 1, 2014. She was a fighter right to the end, believing she could beat her illness. It was not to be.
Gerda was predeceased by her parents, Wanda and Ferdinand Schuetz, of Germany, her sisters Hannelore (Peter) Huebler and Martha (Sebastian) Neumayer, her brothers Ed (Christa) Schuetz, and Adolf (Rita) Schuetz.
We are left to cherish her memories, husband Herb, brother Siegfried (Silvana) Schuetz, cousin Elfriede (Werner) Risch, of Germany, and nieces and nephews Lorraine, Brian, Kirsten, Patric, Shauna, Darren, David, Nicola, Mark, Sabine, Joerg, and Michael. Sisters-in-law (all in Germany) Doris (Heinz, predeceased), Roswitha (Kurt), and Evelyn (predeceased) (Hans), nieces and nephews Gitti, Heike, Robert, Andy, Silvia and Johnny.
You will be missed, but you are forever in our hearts!
Funeral arrangements are private. There will be a celebration of Gerda's life in the spring of 2014.