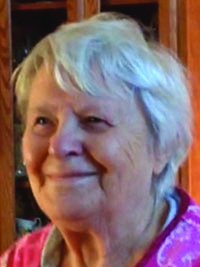 Gertrude Marie Gadoury NEE Bacon
On September 3, 2018 Gertrude Gadoury (Bacon) passed away peacefully at the age of 89.
She leaves to mourn: her son Gerard (Rosalind) Gadoury; daughters: Valerie Batog, Lorraine (Patrick) Fencott, Danielle (Micheal) Boileau, Janet, Maureen, Teresa (Matthew) Gadoury, as well as 12 grandchildren: Ryan Batog, Daniel Gadoury, Brian Gadoury, Mark Yagos (Tasha), Kristy Hildebrand (Jim), Nicole Scallion (JP) Hache, Matthew Scallion (Veronica), Jacob Fencott (Nicole), Amanda Suian, Samantha Suian (Steven), Rebecca Gadoury, and Mackenzie Gadoury as well as 10 great grandchildren: Alena, Alyssa Hildebrand, Emma, Colby, Zarah Yagos, Christopher Scallion, Izabelle Hache, George, Catlin Suian and Ethan Suian .
Gertrude was predeceased by: her husband Rene; daughter Rachel (Douglas) Scallion; son in law David Batog; her father Joseph Bacon and parents William and Anna Church.
Prayer Service
Friday September 7, 2018 at 7:00PM
Trinity Funeral Home Chapel
10530 116 Street, Edmonton
 Mass of Christian Burial
Saturday September 8, 2018 1:00PM
St. Andrews Catholic Parish
12810 111 Avenue, Edmonton