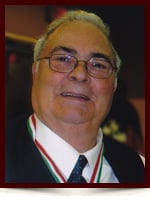 Gilberto Raposo
April 23, 1937 - August 18, 2012
It is with great sadness that we announce the sudden passing of Gilberto Raposo of Edmonton, formerly of Sao Miguel, Azores on August 18, 2012 at the age of 75 years. Gilberto was a proud, loving, Catholic family man.
He is survived by his wife and caring companion, Judy From-Raposo; sons, Fernando (Evelyn) and Edward (Shellie); step-son, Randy From; step-daughter Carla (Richard) Papp; grandchildren: Dayton, Connor, Magnus and Isabella; sister Luzia Cipriano; brother-in-laws: Manuel Cabral, Jose Liberal (Odyilla) Carreiro, Fernando Carreiro; sister-in-law Julia Raposo as well as numerous relatives and dear friends.
He was predeceased by his loving first wife Maria in 2003; his parents: Manuel and Carlotta Raposo; sisters: Maria Santa Cabral, Julieta Cabral; brother Joao Raposo; brother-in-laws: Joao Maria Duarte, Valter Carreiro, Humberto Carreiro, Manuel Cabral, Eduardo Cipriano; sister-in-laws: Beatriz Duarte, Maria Eusebia Carreiro and Maria Luiza Carreiro.
The Family wishes to extend a heartfelt thank you for the compassion care given to Gilberto at the Royal Alexander Hospital Unit 53 in his last days.
Prayers
6:00PM Thursday August 23, 2012
Our Lady of Fatima Parish
12311-55 Street Edmonton, AB
Mass of Christian Burial
11:00AM Friday August 24, 2012
Our Lady of Fatima Parish
12311-55 Street Edmonton, AB
Interment
St. Michael's Cemetery
Memorial Donations
Alzheimer Society of Alberta
10531 Kingsway Avenue
Edmonton Alberta T5H 4K1