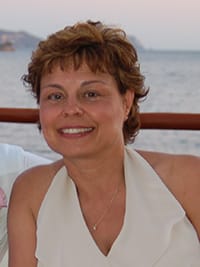 Giorgina Christina (Fidenato) Clement
June 15, 1961 – September 7, 2018
We are deeply saddened to announce the passing of a loving wife, mother, sister, aunt and nana.
Giorgina passed away peacefully on September 7, 2018 at the University of Alberta Hospital after numerous complications and a long courageous battle due to cancer.
Giorgina was born in Blairmore, Alberta on June 15, 1961 to her loving parents Giuseppe and Addia (Cisilino) Fidenato. She later settled in Edmonton, worked numerous jobs until starting her seventeen-year career with Service Alberta where she also made numerous friends.
Giorgina enjoyed many past times some of which included reading, gardening, baking and time out at "her happy place", the lake. She had a love of animals and enjoyed long walks and quiet times with her two loving dogs Jasper and Jasmine. Giorgina was a kind and generous individual who put most everyone's needs ahead of her own, especially when it came to her close-knit blended family.  She loved to laugh, even at herself. She had a beautiful smile and a laugh that was contagious to most everyone she met. Giorgina was strong willed and didn't often hold back when something needed to be said.
She is predeceased by her parents Giuseppe and Addia Fidenato and eldest sister Luigina.
Giorgina is survived by her husband Paul Clement; daughter Christina Van den Bon (Dave Ainsworth); stepson Conrad Nalesnik (Amy); sisters Julie Bulloch (Gord) and Rina Ferraccoli (Randy); niece Elysse and nephew's Jim and Paul; and her grandchildren of the heart; Jake, Thomas, Liam, Charlotte and Jude.
Celebration of Life
Thursday September 13, 2018, 2:00 pm
Trinity Funeral Chapel
105-116 St. NW Edmonton, Alberta
Interment will be held at a later date and undetermined location. Close family and friends will be notified when these arrangements have been made.
In lieu of flowers donations can be made in her name to Bladder Cancer Canada https://bladdercancercanada.org/en/donate-now/