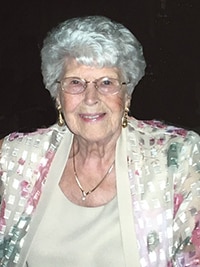 Gladys Marion Shonert (nee Olson)
March 29, 1917 – May 16, 2018
It is with both sadness and peace in our hearts, we announce the passing of Gladys Marion Shonert (nee Olson) of Edmonton on May 16, 2018.  She had a very full 101 years of life.
Gladys passed away at the University of Alberta Hospital after suffering a stroke.
She was born in Castor Alberta to Olaf and Julia Olson.
Gladys will be greatly missed by her daughter Sharon and husband Donald (Jackson), her grandchildren Sabrina and Katelynn, her four great grandchildren Elizabeth, Victoria, Caleb and Teilla as well as many nieces and nephews.
She was predeceased by her husband Norman, parents and nine brothers and sisters Bertha Olson, Elmer Olson, Mable Proulx, Agnes Parry, Arthur Olson, Irene Campbell, Mildred Winmill, Alice Nessel, Melford Olson and several nieces and nephews.
Gladys was a loving mother, grandmother and great grandmother.  During her life she enjoyed nature, gardening, knitting, embroidery, cross stitch and painting.  Family social events were a much-loved occasion for Gladys. She also enjoyed every opportunity to travel, she loved visiting new places, seeing new things and meeting new people.
Our family wishes to thank the staff at Shepherd's Care Vanguard for the wonderful care provided to Gladys. The kindness shown to her is appreciated and will not be forgotten.
A Celebration of her Life will be held on Thursday June 14, at 1:30 PM at St. Albert Evangelical Lutheran Church located at 11 Glenview Crescent, St. Albert.