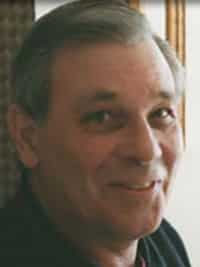 Godfrey (Jeff) Dunnill
April 17, 1936 – January 27, 2020
Jeff was born in Birmingham, England. He immigrated to Canada on the Queen Mary as a teenager. Short of money and big on dreams, he paid for his adventure by ironing the shirts of other passengers. Jeff was entrepreneurial and not afraid to work. Once in Canada he found employment as a construction framer and soon realized he had the knowledge and skills to set out on his own. 'Dunnill Homes' was established in Edmonton in the 1960's.
Jeff loved soccer, and lively debates. He also had a keen interest in life and in his surroundings, so much so, that he occasionally went up north to find the 'gold mother lode'.  He also helped his wife, Patricia, with the thoroughbred race horses. He loved the race track and with that influence he and a partner opened a country and western saloon called 'Longriders'. It was a popular gathering place for anyone who enjoyed country music, line dancing and casual evenings on the town.
Jeff was good with numbers and mental games. He loved the Lotto 649 and was certain he could beat the odds by working combinations of numbers. He was an avid reader and a historian at heart. During family discussions, the unaware, the uneducated, unprepared and misinformed were quickly and humorously set straight. "What on earth do you learn in school?"
Despite his many achievements and adventures, those that loved him most will remember him as someone who was always ready to tumble to the floor and have a wrestle with the kids. The screams, giggles and peels of laughter are never far in our memories. "Someone is going to get a thumping!"
A private service has occurred.  In lieu of flowers donations may be made to the "Heart and Stroke Foundation of Canada.