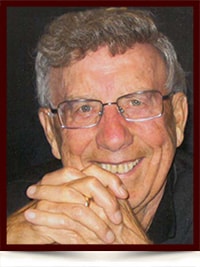 Gordon Gehlert
March 29, 1930 – October 8, 2017
Surrounded by family and his close friend, Gordon Gehlert passed away peacefully after a long illness.
Gordon will be missed by his wife of 50 years, Gloria, who was always by his side, his daughter Gina (Peter Sharp), his son Glenn (Tanya), six grandsons: Luke, Eric, Thomas, Jake, Samuel, and Tye, his brother Bob (Madeleine), and sister-in-law Nina.
Gordon was predeceased by his sister Marlene and brother Clarence. Gordon will be missed by his loving family and many dear friends.
The family would like to thank the caring staff at the University Hospital, Norwood, and Devonshire LTC.
Gordon Gehlert was born in Edmonton and lived and worked here his whole life. He was an employee of Interprovincial Pipeline / Enbridge for 39 years, making many professional acquaintances and good friends over the years.
Gord enjoyed golf - both playing and watching it on TV in the later years. He had a full and busy retirement, which he spent travelling with Gloria, volunteering for seniors, studying finance and investments, and on many computer-related hobbies.
Gord always had time for his family. He was a constant spectator and even coach for his kids' sports. He enjoyed big family dinners at the Moose Factory and often got onto the ground to play with his grandsons, even when he was well into his 80s.
Gord was a steadfast, dependable, loving husband and father and a loyal friend. He will be greatly missed.
Memorial Service
Friday, October 13, 2017 2:00pm
Trinity Funeral Home Chapel
10530 – 116 Street.
Donations in memory of Gordon may be made to the Kidney Foundation of Canada.