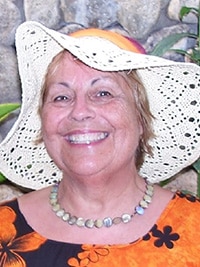 Gwen (Gladice) Ditzian (née Davies)
Gwen Ditzian (née Gladice Davies) passed away among friends and family at the Misericordia Hospital in Edmonton, AB on June 14, 2019 at the age of 77. Gwen is survived by her daughters Rachelle and Tamar Ditzian and granddaughter Danielle Ditzian.
Gwen was born on June 18, 1941 in Seven Sisters, Wales to Gwen and Tudor Davies. She graduated from the University of Cardiff with a Bachelor of Arts degree and subsequently obtained her Diploma in Education. She then moved to Canada and obtained a Master's Degree in German from the University of Alberta. She married Zeev Ditzian in 1971, and they had two children, Rachelle and Tamar.
Gwen was a natural teacher with a love of learning and a gift for languages. She taught ESL for many years at the University of Alberta, Department of Extension. Her ESL class was even broadcast on the local ACCESS network for many years so that many local people could learn English from her. Later, she taught High School English, German, and other courses, mainly at Fort Saskatchewan Senior High School for over 20 years.
After retirement, she continued to teach, tutoring countless students individually in both ESL and English. She enjoyed sharing her love of languages, literature, and (especially) Shakespeare with her students, and she was the type of teacher who made a difference in people's lives. Her family and friends will always remember her as an intelligent, kind, compassionate human being who was quick to laugh and always ready to sing a song or recite a poem.
Celebration of Life
2:00 pm on Friday, June 21, 2019
Trinity Funeral Home
10530-116 ST NW Edmonton, AB All
If you would like to send a donation in lieu of flowers, a donation may be made to Pathways to Education, a four star Canadian charity dedicated to helping underprivileged students to graduate from high school and go on to post-secondary education https://www.pathwaystoeducation.ca/donate-to-pathways.
Condolences as well as memories and photos can be uploaded at Gwen's memorial website: https://www.gmditzian.com.