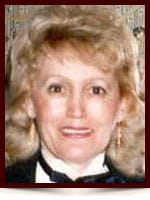 Gwendolyn Prawdzik Woyiwada
Gwendolyn Prawdzik Woyiwada passed away on January 30, 2014. Gwen was born near Neepawa, Manitoba on March 12, 1930 to Thomas and Mary Prawdzik. She grew up on the family farm near Polonia, Manitoba, the second youngest of 10 children. As a teenager, Gwen moved to Winnipeg to live with her sister Gertie. After marrying Dave Woyiwada in 1950, she lived happily for many years in Portage la Prairie. There she proudly raised her 4 children, Rick, Holly, Diny and Kim, and was a devoted foster parent as well. Gwen was an accomplished seamstress; her children fondly recall all the outfits and costumes their mother created for them. She also enjoyed ceramics, camping, gardening, music, golf, and yoga, and earned a bronze medallion in swimming as an adult. Gwen was very proud of her Polish heritage and loved cooking with her mom and sisters while they chatted in Polish. After living once again in Winnipeg,
Gwen enjoyed sharing a home and cottage in Edmonton with Bruno Mittelstadt. The last few years of her life, she was expertly cared for by the professional and loving staff of Capital Care Grandview, Edmonton, AB. Gwen is survived by her 4 children and their spouses, 8 grandchildren, her brother Ken and numerous nieces and nephews. Her compassionate nature and love for animals strongly influenced her children and grandchildren, who now strive to live their lives with the same dedication.
She will be remembered as a fun-loving, determined, hardworking wife, mother, grandmother, and friend, and will be missed by all who were close to her. There will be a Celebration of Life for Gwen in Winnipeg in August 2014.
Memorial Donations
www.alzheimer.ca
www.capitalcarefoundation.net