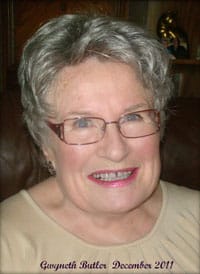 Gwyneth Mary Butler
On January 29, 2018 our beloved mom, grandmother and great-grandmother Gwyneth Mary Butler passed away after 91 amazing years.
Born in Edmonton on November 3, 1926, Gwyneth was a beautiful and bright woman with a great sense of humour and wonderful spirit of adventure. When she was just 16, she took a train to Vancouver to "see the coast," where she fell in love with and married a handsome young seaman named Norman Hicks. They had two children together--daughter Cathryn and son Glenn.
Gwyneth loved to read (usually with one of her cherished pets asleep on her lap) and believed a good story should be shared. Her home was always filled with the books she loved and thoughtfully loaned. She also had a wicked sense of humour and could light up a room with her infectious laughter and wonderful storytelling.
Survived by her daughter Cathryn Anderson (David); son Glenn Butler (Katherine); and eight grandchildren:  Megan Chartier (Errol Bressler); Ian Anderson (Alysha); Emily Anderson; Lauren Krahn (Cody); Scott Butler; Kelly Johnston (James Hill); Cassandra Drinnan and Joe Drinnan; and four great-grandchildren: Ryker, Jonnie, Gwenyth and a little one due to arrive in June. She is also survived by her dear friend, Kelli Riste.
Memorial Service
Saturday July 14, 2:00PM
Trinity Funeral Home Chapel
10530 116 Street, Edmonton AB
In lieu of flowers, donations to the Canadian Diabetes Association, Canadian Heart & Stroke Foundation, or the Edmonton Humane Society would be lovingly appreciated.