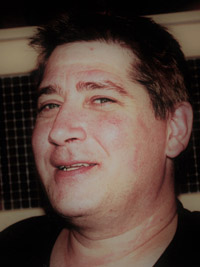 Hall William Robert Taylor
November 22, 1964 - August 17, 2020
Cranbrook, BC
Hall was a free spirit, a child of the 60's who was born with such a full head of hair, the nurses had to trim the front to keep it out of his eyes and, affectionately, they called him "the Beatle". As an adult, Hall embraced his Métis heritage and culture, loved the outdoors, motorcycles, his trucks, music, guitars and his beloved cat, Frankie. Before suffering a life-changing workplace injury in "the patch", he held many different jobs, beginning with working in the hospitality industry in Edmonton, to welding, truck driving, to operating the tour bus for a number of iconic Canadian bands and artists including Blue Rodeo, Tragically Hip, Alanis Morissette, Kim Mitchell, Amanda Marshall, Swollen Members, Sass Jordan, Tea Party, Bush, David Wilcox and Gaelforce Dance. In those circles, Hall was known as "Hollywood". Hall's "roadie" experiences, which had him travelling all over Canada and the USA, were among his fondest memories.
Hall was born in Windsor, Ontario, spent his formative years in Fox Creek, Alberta, moved back to Ontario as a young adult, and spent the last seven years in beautiful Kimberley, BC.
Predeceased by his father Dusty Taylor in 1988, stepfather Larry Babcock (2016), grandmother Alice Bourgeois (1999), nephew Daniel Smith (1981), and brother Scott (2006), Hall leaves to mourn his passing his mother Maggie, brother Bud Taylor (Sharon), sister Shelley Alexy (Dan), nieces Jackie Smith and Jenny Alexy, nephews Chris Smith, Andrew Zawierucha, Dustin Taylor, Mark Taylor and Taylor Alexy, aunts, uncles, cousins and friends all over North America.
The Taylor family wishes to extend deep appreciation to the medical and nursing staff at East Kootenay Regional Hospital (Cranbrook, BC), to neighbours Josh, Brian and Cheryl, and immeasurable gratitude to Hall's longtime friends Jody Saniuk (Winnipeg) and Mike Ransom (Fox Creek, AB), for their invaluable assistance and for brightening Hall's final days.
Flowers gratefully declined. To honor Hall's memory, please plant a tree or make a donation to a charity of your choice.
A celebration of Hall's life will be held at a later date.