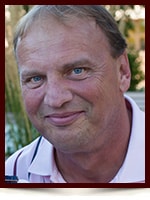 Hanno Lee Hartmann
It is with extreme sadness we announce the sudden passing of Hanno Lee Hartmann on Thursday September 1, 2016 in Edmonton, Alberta at the age of 54.
Hanno was born December 2, 1961 in Kaiserslautern, Germany to Horst Hartmann and Elfriede Mueller. The family moved to Edmonton in 1964, returned to Germany in 1969, and made the final return to Edmonton in 1970. In 1977, while attending Jasper Place High School, Hanno began working at the Sandman Hotel where he met Brenda and the two were later married on September 6th, 1980.
Family was of the utmost importance to Hanno. He was always available to help them out or offer his advice, no matter who was asking or what they needed. Hanno was also a longtime member of the Edmonton Northstars Athletic Club and greatly believed in the power of organized sports and their ability to help guide and shape the minds and behaviors of children and youth.
Hanno was predeceased by his parents, Horst and Elfriede, as well as his sister Peggy.
He is survived and will be lovingly remembered by his wife Brenda, his children Christopher (Sandra) and Michelle (Keith), as well as his three grandchildren, Hannah, Wilhelm, and Avery. He also leaves behind two brothers, Roy (Debra) and Randy (Donna), three brother-in-laws, Barry (Deb), Don, and Darin (Matthew), stepmother Edith, mother and father-in-law Marion and Jerry, mother-in-law Primrose, grandfather Alex as well as numerous aunts, uncles, cousins, nieces and nephews.
Cremation has taken place and a Celebration of Life will be held on September 10th at 1:00 pm at Parkview Community League, 9135 146 street, Edmonton. Final interment will take place privately at Rosehill Cemetary at a later date.
The family is grateful for the many heartfelt condolences they've received and would ask that in lieu of flowers, donations be made in Hanno's memory to the Edmonton Northstars Atheltic Club (contact Kerri or Marvin, 780-471-0010) or Sports Central (https://www.canadahelps.org/dn/2921).