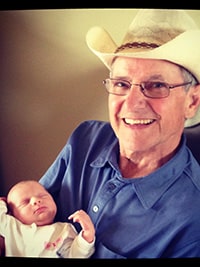 Hans Gerd Schnepper
Hans was born in Germany and grew up in the aftermath of the Second World War. He became an apprentice bricklayer at age 14 and then immigrated to Canada at age 18 and joined his brother Karl in Edmonton. He held a variety of jobs including working for the City and in a bakery.
He loved the outdoors, including hunting, fishing and camping and longed to become a cowboy. He met his future wife, Loretta and they married in 1962. They welcomed their first child, Susan in 1963. They settled in Ottewell in 1964 and had their son, James in 1968. Son David was a delightful addition in 1976.
During his career as a bricklayer, he worked on many interesting and challenging projects which included Charles Camsell Hospital, the Royal Museum and St. Albert City Hall. He formed is own masonry business and did the masonry work in the family home of today. He was a meticulous and precise craftsman who took great pride in his work.
Hans and Loretta enjoyed 55 years of marriage and made many happy memories. Hans loved to travel, enjoy the outdoors and was very proud of his children and grand children who really were the centre of he and Loretta's lives. He will always be remembered for his huge smile and, of course, his signature cowboy hat! Love you Dad, you will live in our hearts forever.
Funeral Mass
11:00AM Saturday March 17, 2018
Our Lady of Perpetual Help Parish
13 Brower Dr, Sherwood Park, AB