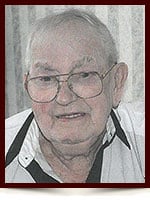 Harold James Cleaver
Harold James Cleaver, 88
Harold James Cleaver, 88 of Onoway Alberta , beloved father, grandfather, husband and partner, passed away peacefully after a long battle with cancer on February 6, 2015.
He was predeceased by his wife of 49 years Edna and their loved son Glenn, who tragically died in a car accident.
Harold is survived by his son Kelly Cleaver of Edmonton and his wife Cindy; and children, Rylee and Austin; son Jim Cleaver of Whitehorse Yukon, his wife Stephanie Churchill and his son David Cleaver, also his daughter Karen Cleaver of Jersey City New Jersey, his brothers Norman, Doug, Terry (Donald) and Jerry as well as numerous nieces, nephews and other relatives and friends. He is also survived by his partner of 17 years Olga McCuistion. Olga came into Harold's life and has been his partner and cared for him until his passing - for this we know he was grateful.
Harold took great pride in the accomplishments of his life, children and grandchildren and all that knew him had to hear him list the accomplishments of all. As a sports fan he spent several years coaching his son in hockey and took great pride in the accomplishments of his grandson on the ice. He was also proud of academic accomplishments, accomplishments in business and was happy to see his family happy and healthy.
Harold was born in the Lakeland area of Manitoba. He enlisted in the Canadian army at a young age to fight in WWII but because of his young age never saw action. After the army Harold wander through Western Canada, working at many trades, truck driver, heavy equipment operator, construction foreman, construction superintendent and heavy equipment operator instructor. During those travels he met Edna who would become his wife. His work took his family across the Prairie Provinces, British Columbia and into the Yukon Territory finally settling and retiring in the Edmonton area. He was well regarded in the construction business and retired from Millar Western.
The family would like to express their sincere gratitude to the members of the Mel Miller Hospice at Edmonton General. Their dedication and effort to provide quality care over the last few months were a heartwarming blessing to the entire family.
At Harold's request there will be no funeral service. In lieu of flowers contributions to Alberta Hospice Palliative Care Association or a charity of your choice would be appreciated.
Contact Information: [wpseo_address oneline="1" show_state="0" show_email="0"]