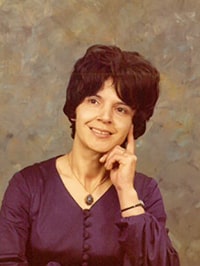 Hazel Evelyn Luce
Surrounded by her Loving family, Hazel Luce of Edmonton passed away peacefully on August 13, 2019 at the age of 74 years.
Left to cherish her memory are her four loving children: Yvonne, Mellisa (Ian), Suzette (Tony) and Rick (Vanessa); thirteen grandchildren: Nicole (Maddie), Roxanne (Donovan), Mathew (Raven), Nicole, Kimberly, Darren (Jordan), Samantha (Floyd), Mikayla, Cassandra, Alyssa, Zaden, River, Titania and Natalia; ten great-grandchildren: Elizabeth, Annabella, Dominic, Hannah, Damian, Lexie, Alivia, Nevaeh, Mya and Malakai; three brothers: Ray, Richard and Johnny; three sisters: Gracie, Cora (Mansel) and Linda (Richard) as well as numerous relatives and many dear friends.
She was predeceased by her husband Herbert in 2005.
Funeral Service
10:00AM Monday August 19, 2019
Trinity Funeral Home
10530-116 Street Edmonton, AB
Internment
St. Michael's Cemetery
13819-82 Street Edmonton, AB
In Lieu of flowers, Memorial Donations can be made directly to the Canadian Cancer Society 9452 51 Ave NW # 201, Edmonton, AB T6E 5A6