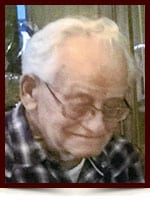 Heinz (Henry) Stallknecht
Heinz (Henry) Karl Herman  Stallknecht
November 11, 1928 – February 17, 2015
A loving husband, father, grandfather and great-grandfather. The son of Wilhelm and Eva.  Henry was pre-deceased by his first son, Larry, his father,  mother, brother Helmut Paul and great-grandson Henrich.  He leaves behind brothers Kurt (Eleanor), Garry (Ilse), his sister, Rose and sister-in-law Lorraine. He leaves behind his loving wife, Dorothy, of 62 years, sons Randolph (Audrey), Myles (Colleen) and David (Claudette).  He also leaves behind a loving grand-son, Shane (Carli) and grand-daughter Natasha, and great-grandchildren Kaidence, Avery and Emrey. He also leaves behind many cousins, nieces, nephews and close friends.
Henry loved to camp, fish, ski-doo, quad and cycle. He especially enjoyed participating in the Leduc West Antique Society Tractor Show where he drove the tractors he restored.
He was a heavy duty mechanic and a member of Local 955 for 49 years.  He loved to invent and create, tinker and fix everyone's mechanical problems.
Dad enjoyed and loved to be surrounded by his family – his smile, laugh, gentleness and compassion will be sorely missed.  We love you and hope you are comfortable on your journey into eternal rest.
May your heavenly family embrace you.
Contact Information: [wpseo_address oneline="1" show_state="0" show_email="0"]