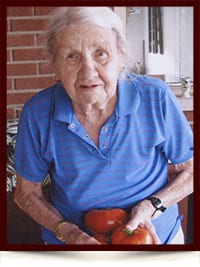 Helen Jane Bulbuc (nee Jarvis)
It is with great sadness that we announce the passing of Helen Jane Bulbuc (nee Jarvis), wife of the late William D Bulbuc [Bill] on February 25, 2017 at the age of 88 years.
Left to cherish her memory are her two sons; Bill (Cathy) Bulbuc of Edmonton with grandchildren Sydney & Spencer, and Dan (Caroline) Bulbuc of Sherwood Park with grandchildren Kelsey, Fraser & Taylor, as well as many relatives and friends. Helen was born in Morrisburg, Ontario on September 26, 1928. She was raised with her 14 siblings by parents Harold and Nellie Jarvis. She is survived by siblings Ann, Ruthie, Ted, Mary, Bill and Donald and predeceased by George, Edmund, Marg, Betty, Hugh, Molly, Hank, and John. Helen married Bill Bulbuc in April, 1951 and made their home in various cities in Ontario before finally settling in Cornwall.
She was an avid homemaker who in her spare time enjoyed gardening and supplying her prized tomatoes to friends and neighbours. Following Bill's passing in 1997 [after 46 years of marriage], the out pouring of love, friendship and support from a small circle of friends, neighbours and siblings allowed Helen to maintain a comfortable living in her Cornwall home until moving to Alberta in 2013. [Special thanks to Frank, Colleen, Alice, Eileen, Helene, Myke, Anne & Mary for all their love and support].
Helen enjoyed the final years of her life in Alberta being close to her immediate family while appreciating the excellent care, love and friendship given to her by the many staff and residents at Laurier House Strathcona in Sherwood Park....a place she was happy to call "her new home". She will be dearly missed by all.
As per Helen's wishes, in lieu of a funeral service following her cremation, a donation in her name will be made to CapitalCare Foundation-Laurier House Strathcona. Memorial donations may be made to the same foundation at 12 Brower Drive, Sherwood Park, AB T8H 1V3.
Helen's ashes and final resting place will be with her husband in the St Lawrence Valley Union Cemetery in Ingleside, Ontario.