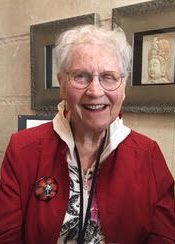 Helen Margaret Hamilton (MacGregor)
April 26, 1937
-
April 23, 2022
Helen Margaret Hamilton (MacGregor), was born April 26, 1937 in Vegreville, AB, daughter to James and Marjorie MacGregor. She was predeceased by her parents and her brother James, and survived by her sister Annette Jean MacGregor. Helen died peacefully in her sleep after a brief struggle with illness.
Helen married Gerald Hamilton in Banff, AB, August 8, 1955. The couple had 4 children. The oldest son William (Mary Elizabeth) passed away in a motor vehicle accident in 1993. She is survived by her sons Keith (Ina) and Steven (Tammy) Hamilton, daughter Margaret Tanaka (Hamilton) (Alan), and daughter-in-law Mary Elizabeth Reardon, 8 grandchildren and 12 great-grandchildren.
Helen had a lengthy career in retail and real estate sales, and built her own successful business partnership in the field of condominium management. She was also a motivational speaker and a self-published author. She remained active and productive well into her golden years before suffering a series of health setbacks, finally forcing her to step away from her many volunteer commitments.
In lieu of cards and flowers the family asks that you consider a donation to the Heart and Stroke Foundation, and in these times please support the United Nations High Commission for Refugees of the Ukrainian war.
Celebration of Life
Saturday June 18, 2022 at 10:00 a.m.
Trinity Funeral Home Chapel
10530 116 Street, Edmonton AB
For those who are unable to attend, the celebration can be viewed through the following link: https://vimeo.com/720098934/9e99dc41ee