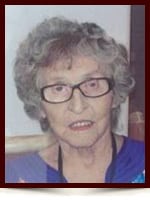 In Loving Memory of Helene Elvik
02-April 1930 - 10 April 2014
Helene passed away peacefully on 10 April 2014 at 84 years of age. Helene was pre-deceased by her loving husband, Ed Elvik, in 1985, at the tender age of 56 years. Left to cherish her memory is her only child, Garry R. Elvik, daughter-in-law, Grace ( Piercey ) two grandchildren, Richard Allen & Lori-Lynn Allen, Helene's eldest brother and only surviving sibling, John Holtz, his beloved wife Betty, Helene's dear sisters-in-law, Edith Holtz and Thorild Legg as well as many precious nieces and nephews.
" To live in the hearts we leave behind, is not to die " Thomas Campbell
THE LORD IS MY SHEPHERD PSALM 23