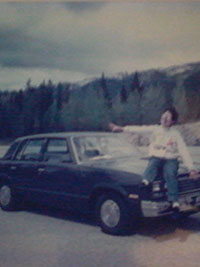 Hendrika Wilhelmina Van de Maat
April 10, 1927 - December 2, 2020
As in the song I'll fly away, our Mom has gone upstairs to be with her beloved Irish Setter Queenie, her Chevy, and friends and family who went ahead Hendrika died peacefully in her sleep on December 2, 2020 in her room at Butterfly Meadows, St. Joseph's Auxiliary Hospital.
In 1950, Hendrika and her husband Ed immigrated to Canada, choosing Canada in gratitude and appreciation for the liberation of Holland by Canadian soldiers in 1945.
Henny was predeceased by her parents Hendrik and Frederika Jansen, her brother John and her ex-husband Ed. She is survived by her daughters Dinah and Joanne, who miss their wonderful mother but are relieved that she has found her celestial shore and is free.
With her characteristic determination, Hendrika fulfilled her dream of becoming a Licensed Practical Nurse even though in addition to learning the medical terms, she had to use an English/Dutch reverse dictionary in order to understand the language. She loved nursing and was known as Vandy at the Glenrose Rehabilitation Hospital, where she worked for 28 years until she retired in 1992. She then became a volunteer at the Glenrose cafeteria for many years during lunch hour, assisting patients and visitors with their trays, wrapping bakery items, and assisting in clearing tables, continuing to be her cheerful self. Henny received the Volunteer of the Year Award in 2004 for her volunteer work, having received many glowing compliments and commendations on the nomination ballots.
Henny stressed the importance of having friends, and had so many in all of the aspects of her life. She will be deeply missed
The family wishes to extend their profound appreciation to Dr. R. Peters and the staff at St. Joseph's Auxiliary Hospital. We will always remember their kindness.
In keeping with Hendrika's wishes, no funeral will be held. Cremation has taken place. In lieu of flowers, donations may be made to the Glenrose Rehabilitation Hospital Foundation 10230-111 Avenue NW, Edmonton, Alberta T5G OB7 or the Edmonton Humane Society or the Alberta SPCA