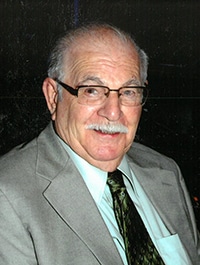 Herve Joseph Roy
MAY 23, 1924 - August 20, 2019
It is with heavy hearts that we say goodbye to our father, grandfather and great grandfather. Herve passed away peacefully on August 20, 2019 at the age of 95 years.
Herve was predeceased by his loving wife of 50 years, Louise, on June 4, 2000 and is survived by his six children, Guy (Linda), Anne Brinkman (Gerrit), Charles, Jacqueline Lepine (Mike), Gilles and Michel (Sandy). He also leaves 9 grandchildren and four great grandchildren, as well as his two sisters, Anita Rodier of Nipawin, SK and Claire Chevrier of Prince Albert, SK.
Herve had a full life with many adventures along the way. On June 15 1950 Herve married the love of his life, Louise Houle in Bellevue, Sk. Together they raised 6 children and were later blessed with grandchildren and great granchildren. Herve owned his own business for 15 years which was a Case and Ford dealership in Domremy, SK.
In 1971 Herve moved the family to Leduc, AB and was employed in Edmonton until he took a job overseas in Israel for 1 year. They then moved to Palma De Mallorca, Spain while Herve worked in Algiers for 5 years. Then back to Edmonton where he was employed in the Beaufort Sea for Dome Petroleum until he retired. Herve and Louise then enjoyed 19 winters in Mesa, AZ together until Louise fell ill and they moved permanently back to Leduc.
The family would like to express our deepest thanks and appreciation to the wonderful staff at St. Thomas Health Care Centre for their kindness and care while Herve was a resident there, as well as the Grey Nuns hospital and St. Joseph Palliative Care.
A private interment will be held at a later date.