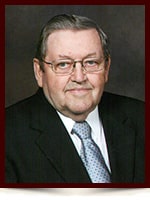 Howard Clark Sim
October 9, 1936 - June 28, 2014
Howard passed away at home as he had wished after a valiant two-year fight with cancer. The cancer won, but it didn't quell his spirit. Howard was born in Luseland, SK to Janet and William Sim. He joined the military (Arty), serving 25 years. He was always proud to say "once a gunner, always a gunner".
On retirement he worked for the Edmonton Public School Board (Retired). Deciding he still wasn't ready to retire, he became Commissionaire working for the Edmonton Police Department. Finally, it was time to retire and he became member of the Alberta Genealogical Society (AGS), and volunteered weekly at the Provincial Archives. Much travel took place in the retirement years in Canada, U.S.A. and Europe.
Howard is survived by Marion, his wife of 57 years; three sons: Don, Wade (Bonny) and Scott (Rita); six grandchildren: Jamie (Dan), Shannon, Tracy, Jayden, Nadia and Elijah; two great-grandchildren: McKenna and Logan Ertman (Howard loved being a GG); three sisters: Gladys Scheidt, Doreen Gauvreau (Syl) and Dorothy Vaughan (Lorne) as well as many cousins, nieces and nephews. Howard was predeceased by his parents Janet and William Sim, infant daughter Tracy Ann and two brothers Harold and Donald.
Memorial Service
Monday July 7, 2014 10:00AM
St. Albert United Church
20 Green Grove Drive
Memorial Donations
Cross Cancer Institute (Oncology)
11560 University Avenue, Edmonton, AB T6G1Z2 or to the charity of your choice