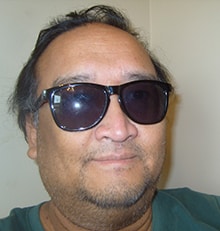 Jack Hing Quon
December 24, 1959 to December 25, 2018
In loving memory of our dear brother, Jack Quon.  Jack passed away suddenly at the age of 59 in Edmonton.  He will be missed greatly by his many brothers and sisters, nephews, nieces and grandnephews and grandnieces, from Canada and out of the country.
Born in Hong Kong, Jack came to Alberta, Canada when he was seven years old - the youngest of seven children.  He was close to and influenced by his mother.  He was proud of his achievements in life.  He was smart and talented.  We will remember Jack as a kind, caring and loving person, willing to lend a helping hand anytime, especially to those who are less fortunate.  He had touched the lives and made a difference of all those who crossed paths with him.
Jack loved the outdoors.   Watching ball games, such as hockey and listening to music are his favorite pastime activities.  He had a sense of humor and appreciated jokes.
Memorial service was held on January 22, 2019 at the Pathways to Housing Edmonton, well attended by many of his friends, and family.