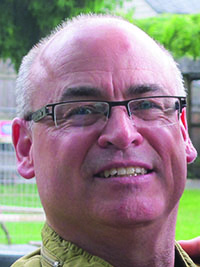 James Bradley Hustins
January 19, 1960 – August 31, 2018
James Bradley "Jim" was born in Bistroff, France, on a Canadian Armed Forces base.  Jim's father, James Edward, was a member of the R.C.A.F.  Upon return to Canada as a young lad, Jim lived in Chatham, New Brunswick, North Bay, Ontario, ST. Albert, Alberta, and the Edmonton area in his adult life.
Jim was a hard worker and lived a simple life.  He saw the value in taking care of the things he worked hard for.  He also saw the value of a personal phone call on birthdays or other special occasions.  Jim was not a man of indulgence but, one could say that his love of cars was his area of excess.  It seemed as though he had a different car most every time you saw him.  He was the person you went to for advice about buying and selling and was always on the hunt for the next good deal…he took pride in that.  Jim's love of cars continued into his work life as a driver for a variety of automotive and commercial companies.
Jim is survived by his daughter Chaylene Nicole (Jason) Peterson, grandsons Jax Edward and Eli Christopher, of Kamloops, B.C., who will forever lovingly remember him as "G-Pa"; a name of Jim's choosing, sisters Sandy (Harry) Hustins of Edmonton, AB. and Sherryl (Jeff) Hustins of Victoria, B.C., and by his brother Ron (Angela) Hustins of Oshawa, ON.  Jim is predeceased by his father James Edward (1994) and mother Charlotte Gwendolyn (2018).
Visitation
The family welcomes all those who
wish to pay their respects on Friday September 7, 2018
between 2:30PM - 4:30PM at Trinity Funeral Home
10530-116 Street Edmonton, AB
A private memorial service for the family will be held at a another time.
Donations may be made to the Canadian Mental Health Association – Alberta Division:
CMHA Alberta Division
320 Ledgeview Business Centre
9707 – 110 Street NW Edmonton, AB T5K 2L9