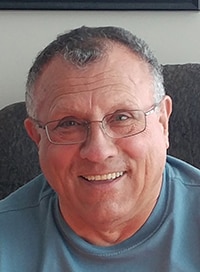 James (Jim) Borbandy
May 22, 1948 – Lestock, Saskatchewan
September 18, 2020 – Edmonton, Alberta
It is with profound sadness that the family of Jim Borbandy announce his passing on Friday, September 18, 2020 at the age of 72 years, after a courageous five year battle with cancer.
Jim was born May 22, 1948 in Lestock, Saskatchewan, to James and Katie Borbandy. He was raised in Saskatchewan where he lived with his five siblings. He followed his dreams and moved to Hinton, Alberta, in 1974 as a trained Fiberglass Molding Technician where he worked in the Pulp Mill Industry for thirty-three years. He had a fulfilling career where he formed many long-lasting friendships and bonds. In 2007 he settled in Edmonton to enjoy his retirement.
Jim loved reading and was known for his love of anything John Wayne. He enjoyed Western and Hallmark movies; many times, being teased that his movie preferences were based on how "cheesy" the movie was.  He had a strong passion for many sports, particularly hockey. He was a dedicated Oilers and Roughrider fan. Many times, he would be content relaxing in his favorite chair listening to old country songs or watching the weather channel. He was a romantic at heart and would watch Christmas movies endlessly throughout the season, regardless of how many times he would have seen them. Jim had an incredible sense of humor and the most infectious laugh that would make your heart swell. Jim was a very proud husband, father and grandfather.  Among all things he enjoyed, nothing brought him more joy than having his wife Jackie by his side.
Jim was a fighter: he maintained an incredibly positive spirit throughout his most difficult journey and never lost hope. He was a kind and strong man that often saw the silver lining in tough times.
Jim leaves to mourn and will be lovingly remembered by his wife and best friend Jackie Borbandy, Jim's loving children, Shannon Borbandy  (Andy), Dustin Borbandy (Lauretta), and their mother Heidi Strom; Jackie's loving children, Terry Noseworthy (Shelly), and Jaime Hutchinson (Damion). He had twelve grandchildren that will miss him dearly: Teagan, Emma, Kaia, Abbey, Cole, Sarah, Miah, Shawna, Alexander, Mackenzie, Phoenix, and Lincoln. Jim is also survived by his brothers, Gord (Ev), Leonard (Madelaine) and Ron (Lorraine) and sister Kathy, brother-in-law Ted Hodder (Norma), and sister-in-law Linette Hodder-Dedich (Fred), as well as numerous nieces, nephews and cousins. He was predeceased by his parents, James and Katie; beloved sister Elsie, and brother-in-laws Ted Jacobs and Dick Bellamy.
"Your life was a blessing, your memory a treasure, you are loved beyond words, and missed beyond measure"
The family wishes to thank Dr.King and Stephen R.N. from The Cross Cancer Institute, as well as Dr.Foutori for the excellent care. Your dedication and kindness will be forever remembered with gratitude by his family.
Due to current gathering restrictions, a Celebration of Life service will be held at a later date when more friends and family will be able to attend. If friends so desire, memorial tributes may be made directly to The Cross Cancer Institute of Edmonton. 11560 University Ave, Edmonton, AB T6G 1Z2