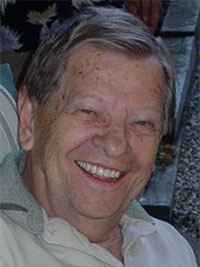 James (Jim/Pops) Hanzley
On June 15 2020, James Hanzley passed away peacefully at the age of 90 years.
Pops will be remembered by his son, Mike Hanzely, Laly Bastidas Espinoza, Daniela and Teresa Inman (Daughter), Dean (son in law), Breanna (Granddaughter), Jeffrey (Grandson) and Joshua (Grandson). Jim was predeceased by Brenda Hanzely (Foulds), his loving wife of 35 years.
Jim (Pops) was a larger than life character, born in Budapest, Hungry. He left Budapest for England where he met and married his wife Brenda. Soon after, they immigrated to Canada and started a family in Sherwood Park, Alberta.
Jim retired from McGavins Bread in 1992. Jim and Brenda spent a large portion of their life travelling until Brenda passed away in 1993. Jim spent a great deal of his time with both of his children, Teresa and her family in California, and helping Mike with his business in Edmonton, Alberta. He was very giving and loved by his family. Jim came from humble beginnings but he passed away rich in love.