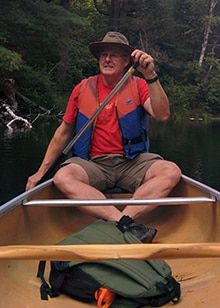 James Robert Thomson
Jim Thomson, P. Geo. EP (CEA)
James (Jim) Robert Thomson of Edmonton passed away March 27, 2020, after a short, tragic fight with brain cancer. Left to always love, cherish, and honor Jim's positive influence, are his wife Sue, son Ian, and brothers, Paul and Brian.
Although only 65 years old, Jim leaves a legacy of kind, gentle, caring, community contribution. Jim was a proud Scouts Canada Leader for many years; a consistent Canadian Blood Services donor; a 30-years plus member and "O' park-meet organizer" of the Edmonton Overlander's Orienteering Club; an enthusiastic alumnus and historian of Camp Tanamakoon; and a long-time member and volunteer with Spirit West United Church.
Jim was born, raised, and spent 30 odd years of his life in and around Toronto, but made the journey to Alberta in 1989 and married Sue a year later. They will just miss celebrating 30 happy years together this year!
When Jim wasn't enjoying the outdoors paddling, hiking, cross-country skiing, cycling, or camping with family and friends, he built some 35 career years of experience in environmental consulting and project management using his education received from the Universities of Guelph and York.
Jim's quiet patience, easy laugh, intellect, and ever-present curiosity made him fun and easy to be around. He is soo missed!
Sue and Ian would like to acknowledge all of the help from friends, the professional and medical caregivers and the care that Jim received in the University of Alberta Hospital 4A2 and 5A2 units, and the 9Y palliative unit at the Edmonton General Hospital. Thank you!
Given the necessary restrictions of COVID-19, a Celebration of Life will be held at the Spirit West United Church of Edmonton at a later date. In lieu of flowers, please make donations to the University of Alberta Hospital Foundation – Brain Care. https://www.universityhospitalfoundation.ab.ca/WhyGive/Support_UAH