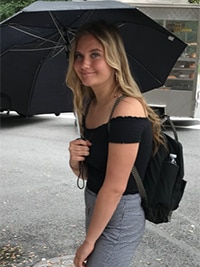 Janae Tulloch
Surrounded by her loving family, Janae Tulloch of Morinville, AB passed away peacefully on January 3, 2020 at the age of 16 years.
Left to cherish her memory are her loving parents Greg and Chris Tulloch; her two brothers: Jackson and Cole; her maternal grandparents: Bob (Pearl) Cable and Gwen (Mike) Bowden; her paternal grandparents: Jerry and Faye Tulloch; two aunts: Bobbi Wright and Maxine (Michael) Wolodko as well as numerous cousins and many dear friends.
Janae was born in Stony Plain AB on April 08, 2003. Her parents chose a water birth to bring her into the world and from her first days to her last she had a love for all things beach and water. One of Janae's passions was ignited at the age of 3 when she enrolled in her first dance class. She continued dance throughout her life and anyone who witnessed her dance saw her love and dedication to her craft.
Janae's greatest love in her life was her family and her friends. She was blessed with two older brothers with whom she shared a special bond. The three were inseparable and made our household a special place to be. Family vacations and outings were always made special by her playful, humorous personality. She was continually surrounded by school friends, volleyball team mates, dance sisters and soul mates who were lucky enough to be touched by her infectious laughter, loving heart and one of a kind humour that we can never replace, but will always honour.
Janae was critically injured in a motor vehicle collision on December 19th and she passed away on January 3, 2020 surrounded by her loving family.
Celebration of Janae's Life
11:00am Saturday January 18, 2020
Morinville Community Cultural Center
9502- 100 Avenue Morinville, AB
In lieu of flowers, memorial donations may be made to the Stollery Children's Hospital Foundation which would be dedicated towards comfort items for families staying in the Paediatric Intensive Care Unit.