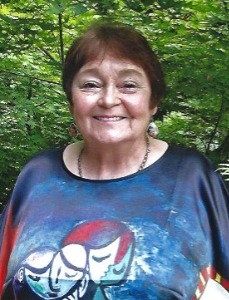 Janet Margaret Clark
September 26, 1944
-
October 29, 2022
It is with heavy hearts that we announce the death of Janet Margaret Clark, on October 29, 2022 at the age of 78, after a short and brave battle with cancer.
Janet is survived by her daughter, Rowan Fox (Max Court); her grandchildren, Layla and Winchester Fox, and Hendrix Court; her sister Allison Taylor-McBryde (Chris Ellis); her sister-in-law, Mary Ellen Clark; her nieces, Jennifer Dwyer, and Morgan Haupt (Phillip Harwood); her nephews, David Clark (Bonnie), and John Clark (Crystal); Rowans' father, Colin Winchester (Tanya); and many great nieces, nephews and extended relatives whom she loved dearly.
She is predeceased by her parents, Ruth and R. David Clark; her brother, Tom Clark; and nephew-in-law, Jerry Dwyer.
Born in Saskatoon, Saskatchewan on September 26, 1944, Janet grew up mainly in the Lethbridge area. She moved to Edmonton to complete her degree in English and Film Studies and Masters in Education at the University of Alberta in 1973. Edmonton was where she lived for the rest of her life, except for a few years in Toronto, where she welcomed her beloved daughter, Rowan. Janet was born to teach and taught high school English for the majority of her career, including becoming the first female Head of the English department at Harry Ainley High School.
Janet was very involved in her church and faith community, having attended Robertson-Wesley United Church for most of her adult life. She participated in scripture readings, Women's weekends, community dinners, and more, and most Sundays, you'd find her in the kitchen preparing coffee and snacks for Fellowship.
Janet was a lifelong supporter of the Arts. She was a season ticket holder at the Citadel, the Symphony, Baroque, the Ballet, and the Opera, for over 40 years, and loved attending concerts, exhibits, and smaller theatres around Edmonton. She had been on the board of directors for Theatre Prospero and volunteered for numerous art related events like the Fringe Theatre Festival, the Walterdale Theatre, and Freewill Players.
Janet had a passion for travel, which was rooted in her love of learning and experiencing new cultures and meeting new people. She had visited over 30 countries in her lifetime.
Above all, Janet loved spending time with her family and friends. Whether it was holidays with family or ladies lunches, she will be remembered as someone who always made an effort in every relationship she had and made everyone in her life feel special, seen, and loved.
In addition to spending time with her family, Janet enjoyed gardening, reading, being part of multiple book clubs, and correcting people's grammar.
Her celebration of life is scheduled for 12:30PM (MT) on Monday, November 28, 2022 at Robertson-Wesley United Church, 10209-123 Street NW.
In lieu of flowers, Janet requested donations be made to Roozen Family Hospice (Pilgrims Hospice Society), where she received the most amazing care in her final days by the most wonderful staff and volunteers.