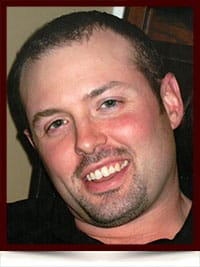 Jarrod Paul Bass
January 20th, 1979-July 15th, 2017
It is with heavy hearts that we announce the sudden passing of Jarrod Paul Bass. Jarrod was born on January 20th, 1979 the 2nd of 3 sons born to John Raymond, and Jacqueline Dawn Bass. The family moved to an acreage, Genesis Park, west of Stony Plain when Jarrod was a baby, and his father John remained there until 1990.
Jarrod and his 2 brothers John Curtis, and Jordan Tyler, moved to Edmonton with their mother Jackie in 1985, where they spent some time living in the west end of Edmonton, before settling in Evergreen Trailer Park on the Northeast end of the City, where Jarrod grew up.
As an adult, Jarrod moved around within Edmonton, and was most recently living in an apartment in downtown Edmonton.
Jarrod was predeceased by his Grandparents, Warren and Mary Bass of Stony Plain, Alberta and Lorne and Pat Schneider of Edmonton, Alberta.
Jarrod leaves to mourn his passing, his Grandmother, Joan (Albert) Keichinger, Father, John, and wife Della Bass, Mother, Jacqueline Bass, 5 brothers John Curtis Bass, (nephew, Wyatt John, niece Emma Marie, and niece Callie-Lyn), Jordan Tyler Bass, Alexander Travis Harvey (niece Kieryn), Jevin Laurence Bass, James Stephen Bass, and one Sister Candice Melissa Harvey, as well as numerous loving aunts and uncles, cousins, and friends.
A Celebration of Life for Jarrod will be held on Saturday, July 22nd, 2017 at 2:00 pm, at Trinity Funeral Home, 10530-116 Street, Edmonton, Alberta T5H 3L7.
The family has asked that in lieu of flowers, you may make a donation to the "Little Warriors", http://littlewarriors.ca/you-can- help/donate/ and that you all please take the time, each day, to hug those you love.