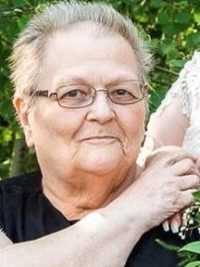 Jeanne Delphine Anne (Wright) Waniandy
March 3, 1943 – February 2, 2021
It is with great sadness we announce the passing of Jeanne Delphine Anne (Wright) Waniandy at the age 77. Born March 3, 1943 in Athabasca, Alberta to George Wright and Jean (Potvin) Wright. Jeanne resided in the City of Leduc and prior to that spent many years in Fort McMurray where she raised her family with John Richard Waniandy.
She is survived by her children Brenda (Kevin) Eaton, Valdon Prodaniuk, Lori Wright, Brian Wright, Angela (Don) Adams, Leon (Tabitha Buhay) Malcolm, and Corey (Jessica Schonnop) Waniandy. Grandchildren; Victoria (Paul Chou) Eaton, Damon and Michelle Prodaniuk, Keith, Brianna, and Aaron Mills, John Wright, Megan (Greg) Farrer, Jaunna (Tanner) Hodder, Karlee (Kalin Mosher) Malcolm, Kamryn (Brad Paynter) Malcolm, and Jason Waniandy. Great Grandchildren; Grayson, Easton, Spencer, and Ariel. Sister Evelyn Benson, Brothers Alfred Wright, and Mike Northcott, and many Cousins, nieces and nephews.
Preceded by her husband John, parents George and Jean, her siblings; Gordon, Florence, Albert, Margaret, William (Willie), and Charlie Wright.
Jeanne was very loving and caring and throughout the years took in anyone who needed her love and attention. Jeanne's creativity and talent was like no other, over the years she created many beautiful and priceless items for family and friends. If you were lucky enough to receive these lovingly created gifts you meant a lot to Jeanne. One item in particular is still being handed down to new family members in the way of a sweater that Jeanne knitted while her children for still young. She especially loved doing ceramics, but just doing them wasn't enough for her she also shared her talent with many of her grandchildren and nieces and nephews. Many of us still have gifts that our children made for us with Jeanne's guidance. Jeanne went to College after her husband's stroke and earned top of her class in Welding. Due to Job market changes she never had the chance to use her welding skills.
Jeanne loved us all but her greatest joy was a visit from a precious grand or great grandchild, she was GiGi to them. When you talked to her the first thing she tell you about was the latest news about her grandchildren. She also had a very special connection with her grand pups Ryder and Tucker. Jeanne had many friends who she loved and adored. She always had time for you no matter who you were. Jeanne's passing has left a huge hole in our hearts. She will be forever loved and missed. We will be holding a service for Jeanne this summer.
Love you Mom, you'll forever be in our hearts.