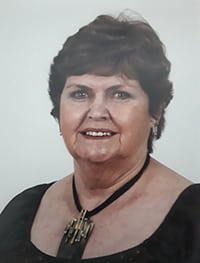 Jeanne (Jennie) Steringa (nee Pikkert)
Our family is so very sad to announce the passing of Jeanne (Jennie) Steringa. Mom passed away on July 29th, 2020 after facing her illness with acceptance and contentment. She was determined to do what she could to enjoy the time she had left with us. We are thankful that she was able to enjoy a reasonably good quality of life in their beautiful apartment looking over the lake in Camrose, up until close to the end. She was a follower of Christ, and her faith in the love and grace of God gave her great peace about where she was going. We are delighted that she is happy and well now.
Pete and Jennie were together for 60 years, married for 58, and while Dad knows where she is and is happy for her, her absence is leaving a huge hole in his life.
Mom was born Janny Pikkert on February 26, 1943 in Enschede in the Netherlands. When she was very young, her family immigrated to Canada where her industrious family worked hard to run a farm and a bakery in and around Red Deer, Alberta.  She met Pete in Red Deer and they married in 1962. Pete and Jennie both worked at various jobs in Red Deer. There they were blessed with four daughters. In 1975 they purchased a hardware store and moved to Clive, Alberta, and they were further blessed when two sons were added to the family. Mom and Dad ran the hardware store in Clive for 30 years. Mom also drove school bus for the Wolf Creek School Division for as many years. In their retirement in 2018, they moved to their apartment in Camrose, Alberta. Mom was very happy there.
She very much loved her family: her husband Pete and their six children: Barb (Ray) and their kids Marlissa, Tim, Christa and Charleen; Brenda (Lee) and their children Taryn, Lauren, and Kirklan; Beverley, and her and Mike's kids Dale, Kelsey and Shawn; Bonnie (Mark) and Trevor, Jenny and Marrissa; Peter III (Brandy-Jo) and Skùli; and Matthew (Amanda) and Jacob. Along with all these beloved children and grandchildren came some wonderful add-ins of spouses, partners and (so far) 15 great-grandchildren, all a delight to Jennie. Mom was predeceased by her parents Jake and Corry Pikkert, and her brothers Bruce and Ralph. She leaves behind her brothers Garritt, Cor and Doug, and her sister Teri (Mom had an integral part in caring for Doug and Teri).
We are honoring Mom's wish that there be no funeral service. The family will have a celebration of her life at a later date. If anyone wishes to make a donation in her honor, may we suggest the Palliative Care Unit (Unit 2) at St. Mary's hospital in Camrose? All these people and the wonderful Home Care nurses were beyond amazing in their care of Mom, and we appreciate so much how they accommodated our many family members (and our questions) while balancing the need to be COVID-cautious. Mom truly appreciated being there in her final hours. Their address is:
Palliative Care, Unit 2
St. Mary's Hospital
4607 53 St
Camrose, AB T4V 1Y5