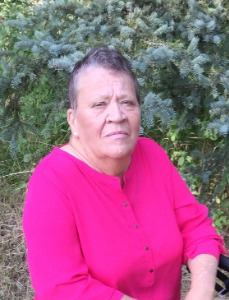 Joan Cornelius Connelly
August 23, 1955
-
December 26, 2022
It is with heavy hearts and deepest sadness that we announce the passing of Joan at age 67 in her own home.
She leaves behind her life partner Wayne Vandale, her siblings John (Lois Connelly), Mary (Wilf Hartfelder), Joyce (John Popien), Louise (Bill Hutchinson), Diann, Caroline (Bob LaBrier) and Kay (Morris Golden). Her sister Helen (Sheldon Murphy) followed Joan five days later. Both now join their parents at rest. Many nieces, nephews, great-nieces, great-nephews, cousins, and aunts in Alberta, BC and Ontario will also mourn her loss.
Joan was born the 8th child of Carl and Margaret Connelly on August 23, 1955 in the Beaverlodge Municipal Hospital. She was raised on the family farm and attended grades 1 -9 at Elmworth School and completed her high school qualifications at Beaverlodge Regional High School in 1975. Following high school Joan moved to Edmonton and was employed steadily as a labourer until sickness forced retirement. Joan was a very diligent worker and took her work seriously.
Joan loved her family beyond all measure. She took great pride in remembering everyone's birthday and always tried to get the first call in. Joan enjoyed travelling to Mexico, England, Portugal, U.S and within Canada.
Joan took great pleasure in the years that she was able to tend a community garden plot in the Unity Square area of Edmonton. When she was unable to grow her own produce she relished in going to the local Farmer's Markets. A favourite pastime of Joan's was having coffee while watching the geese and goslings at Hawrelak Park and visiting Elk Island National Park.
There is no doubt that life on earth is difficult at times and Joan persevered more than her share. Her attitude was always to carry on without complaint about her situation. On December 26th, 2022, a day after one of her favourite holidays she bravely passed over that which she could no longer carry. May she rest in peace.
The family owes their appreciation to the Renal Dialysis Unit at the Edmonton General Hospital for her 14 years of care. Also, special mention must be made to her family doctor, Dr. Sonia Fuentes-Rodriguez and Barb, diabetic nurse at the Kaye Clinic in Edmonton for their dedication to improving clients' health, and healthcare services provided by Homecare.
In lieu of flowers, donations to the charity of your choice would be appreciated.
A celebration of life will be held at a later date, inurnment will be at the Rio Grande Cemetery.