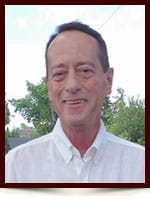 "Joe" William Owen
"Joe" William Owen - June 12th, 1952 - July 8th, 2014, born in Cadomin and resided in Edmonton, had passed away peacefully after his courageous battle with cancer at the age of 62 years old.
He is survived by his daughter Melissa, his loving Mother, Verna, his sister Claudette and beloved nieces Josette, Nicolette, Lennette and nephew Michael.
His sister, Peggy (Ken), nephews, Kenny, Trevor and niece Alana. His aunt Lesca (Bill), aunt Mable and several cousins and great nieces and nephews.
He was predeceased by his father "Bill" (William).