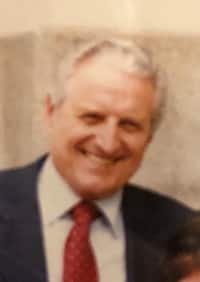 Joseph Louis Victor Rene Pelletier
This is the story of Joseph Louis Victor Rene Pelletier. Going by his second name, Louis was a wonderful man who was loved, is missed, and will always be cherished. This man of many hats:  dad, husband, uncle, grandfather and great grandfather, passed away on January 8, 2019 in Edmonton, Alberta.
Louis' story starts on July 19 1930, the eighth of nine children - and youngest boy - to Albert and Anna Pelletier. He was born in St. Boniface Manitoba, at the time, a French-speaking community, a stone's throw across the Red River from Winnipeg.
Louis would spend his childhood excelling in the classroom, but with the constant financial strain weighing on the family of 11, he decided to drop out of school in the 8th grade. By the time he was 19, Louis had enlisted in the Canadian Army and over the next 20-plus years he would see duty in the Middle East, Africa, Europe and Canada.
It was in West Germany on one of his overseas postings where the curly-haired 23-year-old Louis would meet the love of his life, Elisabeth. Although she was engaged at the time, this didn't stop the five foot seven and three quarters (he always stressed the three quarters) Casanova from charming his way into the heart of the five foot three inch 22-year-old German. Less than two years later on November 23, 1955, they were married and soon after headed to Canada on their first posting together.
Over the next 20 years, Louis and Elisabeth along with their brood of three children (Diane, Madeleine and Pierre) experienced a nomadic life, first in Ottawa, then Churchill (Manitoba), over to Montreal, west to Shilo (Manitoba) and then back to Montreal (St. Hubert) - in addition to Louis working on UN Peacekeeping duties in Egypt and Cyprus.
By his early 40s, Louis had grown tired of the army and decided to retire with the rank of Master Warrant Officer. In the summer of 1971, like all good adventurers seeking new worlds, the family of five jumped into their green Volkswagen Beetle with their soft top Mohawk trailer in tow and from St. Hubert, Quebec headed west to Calgary, living there for one year and then moved north, settling in Edmonton for good.
Louis found work as a salesman - first selling office supplies, then life insurance - and moved on to different sales-related jobs for the rest of his working life.
He was a voracious reader, always a book close by, knowledgeable in everything from the historical works of Herodotus to the pulp fiction of Zane Grey. Often people would remark that he was the smartest man they had ever met.
Always the gentleman, Louis would be the first to give up his seat on the bus or courteously hold a door open for someone. The rule he lived by was "Honesty is not the best policy, it's the only policy."
While he enjoyed wearing expensive custom-made suits from Savile Row (London) or Henry Singer (Edmonton) he was equally poor with money, often funding friends in need to the detriment of his own monthly bills. He loved to eat anything cold, especially popsicles and ice cream, an affliction he passed down to his son.
Impossible to do yet we will attempt it here, to sum up Louis' life: a kind, intelligent man, he was a dreamer who didn't always have both feet on the ground.
Donations can be made to the Alzheimer's Society of Canada - www.alzheimer.ca