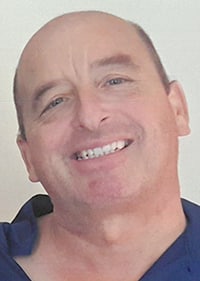 John Fredrick Davidson
John Fredrick Davidson passed away peacefully on Saturday August 17, 2019 at the age of 52.
John is lovingly remembered by 3 brothers: Richard, William, and David, twin sister Constance. John also leaves behind numerous nephews and nieces: John Ross Junior, Eric, Johnathan, Jason, Daniel, Steven, Bradley, Lori, Nathaniel, Brayden and Justin; great-nephews and nieces: Liam, Silas, Elric, Adalia and Saber. John was employed at Uni Clean and leaves to mourn his loss,  his work family: Joe Martino, Ty, Diana, Matteo, Shelley, Bloke, Lenny, Melanie, Joanne M, Jayda, Jennifer, Sasha, Shashi, Jo K., Greg, Munson, Anthony, Joanne F, Karim and many others.
John was predeceased by his parents Mary Ann and Richard as well as his sister Karen.
A special thank you, to all the caregivers to John who were kind and compassionate. Especially to the Grey Nuns Palliative Care Team.
A Celebration of Life will be held on Saturday November 23, 2019 in Mississauga, Ontario. Details will be announced beginning of November 2019.