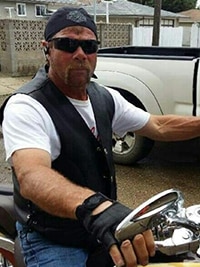 John Maxwell Lamers
John Lamers, a foreman and loader operator worker, who resided in Edmonton, Alberta, died unexpectedly on Dec. 16, 2018 at the age of 53 due to heart disease.
John is survived by his wife Jo-ann Lamers; his children, Brock Lamers, Mitchell Lamers and step-daughter Kristin Adamski; his sister Melissa Lamers; Brother in-law Scott Ryan, and Tim Ryan.(Becky Tilbury). He is predeceased by his mother Lezora Lamers, father John Lamers Sr., and nephew Billy Lamers. Mother in-law Barabra Ryan, Father in-law Robert Ryan.
John was born in St.Thomas on July 06, 1965 to John and Lezora Lamers in Aylmer. John was very close to his nieces and nephews, and always expressed his love for family. His hobbies included NASCAR, Football (Go Green Bay), and his Harley Davidson motorcycle rides. He was an outdoor person taking his family camping all the time, and enjoyed his BBQ.
A cremation is in process and a celebration of life to be determined at a later date. He will be deeply missed by friends and family who knew him.