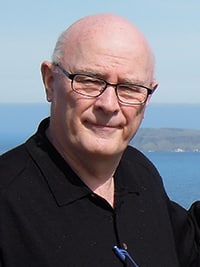 John Thomas Wilson
John passed away Wednesday October 28, 2020 at the age of 73.
John was born in Wilkie, Saskatchewan on December 21, 1946. He moved with his family to Saskatoon in 1949. He is survived by his twin brother James (Abby MacLeod) and special friend Diane Trelenberg. He was predeceased by his parents, Thomas and Barbara (Lethbridge) Wilson of Saskatoon.
John attended Mayfair School, Bedford Road Collegiate and the University of Saskatchewan in Saskatoon. After graduating from the University of Saskatchewan with a B.Ed. he taught in Nipawin and White Fox for several years. He returned to university and received a Master of Arts in Geography from the University of Alberta in Edmonton.
He subsequently worked for the Alberta Department of the Environment in resource planning. He then joined the firm of E. J. Shaske and Associates working in real estate appraisal. In 1990, he joined Public Works and Government Services Canada in Edmonton working as a Senior Real Estate Advisor. In 2008, he joined the City of Edmonton working as a Property Agent in Property Sales and Acquisitions. He retired in 2016.
John was a former member of the North Saskatchewan Regiment. He was also an Orange Gunsite Graduate with several E tickets.
He leaves behind many wonderful friends and family members who supported him tremendously during his battle with cancer. He left us too soon and will be greatly missed.
The family wishes to thank the doctors, nurses and staff of the palliative care unit at the Edmonton General Continuing Care Centre for the very fine care received during his time there.
Those who wish to make a donation in memory of John can donate to Zoe's Animal Rescue (zoesanimalrescue.org), the Edmonton Humane Society or the pet rescue of their choice. His cats were a big part of his life.
As per his wishes there will be no funeral. Cremation has taken place and he will be buried in his grandfather's grave (Frederick Lethbridge) in Woodlawn Cemetery in Saskatoon. Circumstances permitting a small memorial gathering will be held in the Spring in Edmonton.