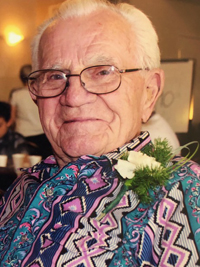 JOHN YOWEK
JOHN YOWEK
On June 21, 2020 after a long life, our much-loved Dad passed away peacefully at the age of 97 years.
He now joins our mother, Betty Winnifred, his beloved wife of more than 50 years who predeceased him 14 years ago.
John is also predeceased by his sisters, Sophie and Iryne, and leaves surviving him his sisters, Vicki and Josie, and his brother, Ronald, in addition to three children, Bettyanne of Vancouver, BC, Janet (Doug) of Edmonton, AB and John (Valerie) of Nelson, BC, five grandchildren, Ryan, Colin, Jason, Thomas and Tara, and seven great-grandchildren.
From our Dad we learned a love of the outdoors, the value of hard work and where to buy the best kubasa in Edmonton. John was always willing to lend a helping hand and was very proud of all his family.
We would like to thank those special caregivers at Benevolence Care Centre and particularly those who were so important to our Dad's wellbeing. Under the current circumstances a small private family service will be held later this summer. Donations in lieu of flowers may be made to Crohn's and Colitis Canada (Alberta branch).